Written by Theodor



Diane touched my soul when she said: 'what about one of our owls?'
'Wonderful,' I replied. Not as a literal, but a nice metaphorical image of l'Oiseau déraciné as a piece of art, it works perfectly.

Let me explain this.

To be honest, I have never imagined a specific representation of the bird that is l'Oiseau déraciné. After all, it is abstract art, right?
With Diane's remark, I saw it. The owl, symbol of wisdom. Your wisdom, which I, for years, have had the privilege to share. Owls have always had a strong connection with my wife and me, we have been collecting them all our lives. Wherever we travel to, every time we bring home one of them. We must have collected hundreds by now.

When you look back on this beautiful day, 15 november 2016, and this small yellow brooch, I hope you do so with a smile. The combination of the artwork l'Oiseau, the 3D-printed brooch, and the owl, express my gratitude towards you in the best way I can imagine: the symbol of change and progress, with wisdom as its motor.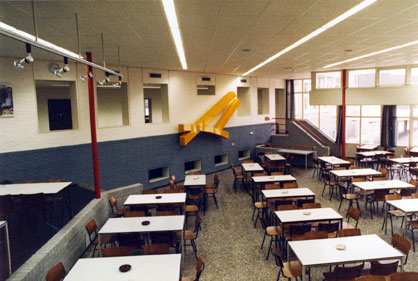 L'oiseau Déraciné, 'the uprooted bird' – the bird releasing itself to seek its own way, heading for a strange and unknown future.
But as the motion represented by the object is firmly anchored to the wall, it will always stay connected with its background.

Place HES "De Maere" (nowaday the theater of Saxion), Enschede
Material polyester, wood and paint
Ingenieurs Architecten Associatie